Although Bluetooth has come a long way since 1989, its main purpose remains the same. To provide wire-free music at the click of the button. But, there are many speakers out there that cater to this. Almost too many to choose from.
To eliminate the stresses of choosing between thousands of speakers, we've compiled a list of the five most popular types of Bluetooth speakers. Each type caters to a different purpose, helping you to find the best speaker for your needs.
1. Waterproof Speakers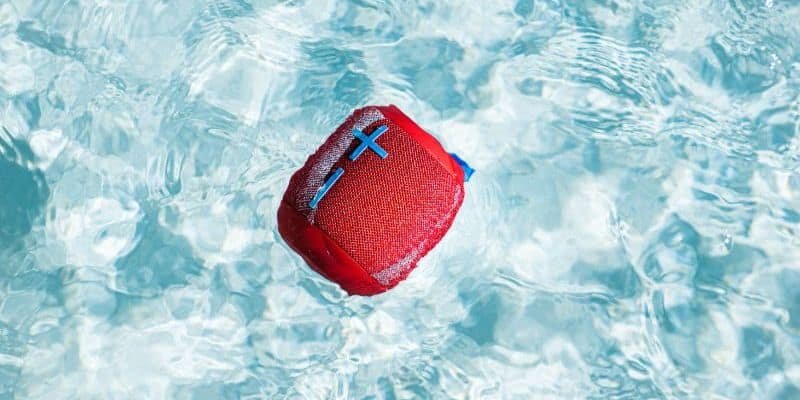 Bluetooth speakers are usually favoured for their portability. Whether taking a trip to the park or hosting in the garden, they allow you to play your tunes anywhere.
Although portable speakers are great, moving them around does come with risks. Asides from the obvious bumps and scrapes, taking the speaker outside increases the likelihood of it getting wet. From unexpected downpours to poolside accidents, there are many hazards to be aware of.
Luckily, waterproof Bluetooth speakers exist for these exact reasons. These speakers are designed with outdoor play in mind, meaning the weather or a spillage won't lead to costly repairs.
Waterproof speakers come with different IPX ratings. Pay attention to these ratings, as they help to clarify how much water the speaker can withstand. IPX1, for example, means that the speaker will survive after a few drops of water. IPX8, on the other hand, means that the speaker will stay intact after submerging in water deeper than a metre. What you choose will depend on how you intend to use the speaker.
Pros Of Waterproof Speakers
Reduces the risk of damage
Safe to use outside
Portable
Durable and shock-resistant
Cons Of Waterproof Speakers
Lower sound quality (extra protection may muffle the sound)
Usually higher in cost
What Are Waterproof Speakers Best Used For?
You can use waterproof speakers in just about any situation imaginable. As mentioned previously, they are most commonly used for outdoor purposes. These speakers are designed with adventure in mind, making them ideal for hikes, days out, pool parties, and so on.
With so many waterproof speakers available, it can be hard to know where to begin. We highly recommend the JBL Clip 4 for adventures and the Ultimate Ears MEGABOOM 3 for outdoor parties!
2. Soundbar Speakers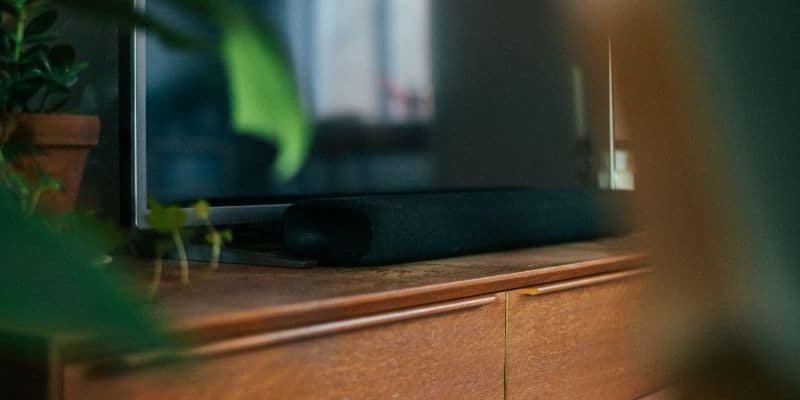 If you're looking to upgrade your living room sound system, look no further than a Bluetooth soundbar speaker. These sleek speakers are long in design, making them perfect for sitting under a TV or on a shelf. Their long design allows them to pack a punch, creating a surround sound system to die for.
No living room is complete without a soundbar, and once you install one, you'll see why. Although similar to speakers, soundbars are different to speakers. Your TV can only make so much noise, but as soon as you add a soundbar to the setup, everything changes. You'll hear every bassline and experience movies like never before.
Pros Of Soundbar Speakers
Sleek design
Blends into any room
Connects to your TV
Creates a  surround sound system
Cons Of Soundbar Speakers
Less impactful in larger rooms
Not as strong as actual surround sound speakers
Cannot be carried around
What are Soundbar Speakers Best Used For?
Soundbar Bluetooth speakers are ideal for enhancing your TV's default sound. With this in mind, they are most commonly used in living rooms or 'cinema rooms'. For an even greater experience, consider hooking the soundbar up to other speakers in the room. This may help to create a surround sound system on a budget.
Want to add a modern touch to your living room? Look no further than the Sonos Beam or JBL Bar Studio. Both feature incredibly sleek designs that will blend into any setup.
3. Boombox Speakers
Low-quality Bluetooth speakers sometimes struggle with connectivity, meaning the volume of your music pays the price. However, with boombox Bluetooth speakers, you'll never have to worry about low volumes again!
Boombox speakers are specially designed to play at louder, clearer volumes. They usually feature two or more integrated speakers and an amplifier to do so. While your neighbours might not be best-pleased by the purchase of a boombox speaker, the quality of your music will make it all worth it. You can always invite them over for your garden festival after all!
It's safe to say that, thanks to Bluetooth, owning a boombox will put you at the top of any party guestlist.
Pros Of Boombox Speakers
Louder sound
Clearer quality of music
Long-lasting
Tailors to indoor and outdoor use
Cons Of Boombox Speakers
More susceptible to damage
Takes longer to charge
Usually higher in cost
What Are Boombox Speakers Best Used For?
There's a time and a place for loud music – we highly doubt that you'll use a boombox speaker while trying to get to sleep. If you frequently host parties or attend a lot of outdoor events, however, a boombox speaker will serve you well. Just remember to purchase one with a handle if you intend on carrying it around. We'd be lying if we said boomboxes were lightweight!
The JBL Boombox is a compact boombox speaker, perfect for travelling. If you want something bigger (and boomier), however, check out the Sony GTKXB7BC.
4. Smart Speakers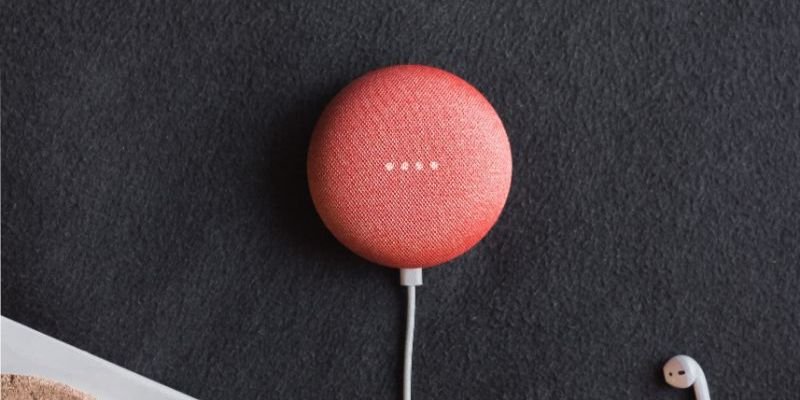 We couldn't write this list without featuring one of our favourite Bluetooth speakers: smart speakers. Almost 30% of UK households own a smart speaker, and this number is expected to rise each year. It's clear to see why.
Smart speakers allow for so much more than music. Many are integrated with virtual assistants that answer your questions. Others can control the lights in your room, meaning you don't have to get up from your comfy sofa. There's very little that smart speakers can't do.
As well as being practical, most smart sneakers are incredibly attractive in design. They are small yet sleek, adding a futuristic vibe to any room.
Pros Of Smart Speakers
Music on demand
Offers more than just music
Uses voice assistant
Tailors to your lifestyle
Cons Of Smart Speakers
Encourages a lazier lifestyle
Must be connected to the internet
Sometimes slow to respond
What Are Smart Speakers Best Used For?
You'll often find smart speakers in the kitchen, living room or bedroom. We recommend placing one in the room you use the most so that you can benefit from all of its features. From setting timers for cooking to asking for a weather report when waking up, how you use your smart speaker will depend on your lifestyle.
When it comes to smart speakers, we highly recommend sticking to the best-sellers. This includes the Amazon Echo and Google Home.
5. Bookshelf Speakers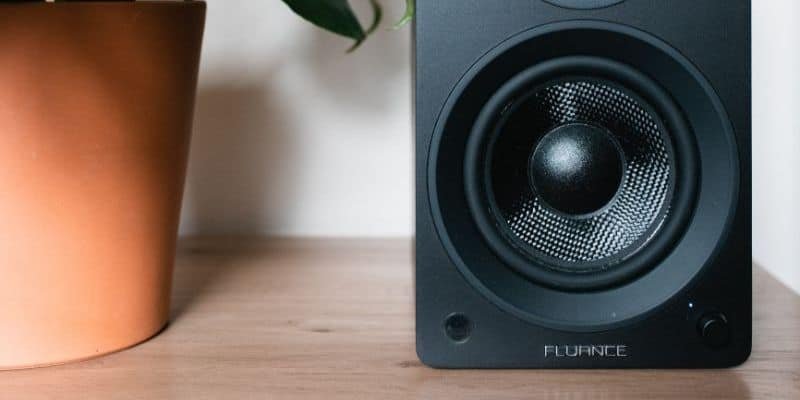 Last, but by no means least, we have bookshelf speakers. As the name suggests, these speakers are designed to sit on display in your home. Whether amplifying your vinyl setup or using them for Bluetooth, bookshelf speakers are a must-have. These speakers are ideal for connecting to your turntable, and yes, turntables can be connected to speakers – so consider this for your new bookshelf setup.
As bookshelf speakers are usually designed for indoor use, they don't have to sacrifice on size or quality. Instead, they can be as bulky as necessary to boast the best sound system possible.
Apart from being high in quality, the classic design of bookshelf speakers adds an 80s studio vibe to any home. If you're a music-lover that dabbles in song mixing from time to time, this type of speaker won't let you down.
Pros Of Bookshelf Speakers
Higher-quality sound
Perfect for smaller spaces
Can be added to surround sound setups
Cons Of Bookshelf Speakers
Bulky in design
Usually not suitable for outdoor use
One is never enough
What Are Bookshelf Speakers Best Used For?
Bookshelf speakers are most commonly used indoors as part of a larger sound setup. Most people will place two or more bookshelf speakers in a room to achieve that much-loved immersive experience. Bookshelf speakers are also popularly used in home studios, as they deliver an accurate and honest playback.
If modern is what you're after, look no further than the ELAC Debut 2.0 speaker. Or, opt for the Yamaha HS Series for trusty classics.
Wait – There's More?
There are many things to consider when buying a Bluetooth speaker. And, believe it or not, there are a hell of a lot more than five types. Other popular types of speakers include:
Tower speakers
Shower speakers
Capsule speakers
Car speakers
Pocket speakers
The list goes on. While this abundance of choice might seem overwhelming, the five types mentioned in this guide cover near enough every purpose possible. You'll never have to reach for a cable again (unless the speaker needs charging, of course).
Enjoy Your Favourite Music, Anywhere
Bluetooth speakers make it easy to access music, no matter where you are. Whether you need a trusty portable device for adventures or a boombox for parties, there's nothing that Bluetooth can't cater to. And, with so many best-selling brands on offer, you'll never fall short of choice!