Image credit: Mark C Austin / pembertonmusicfestival.com
Many people believe that Frank Ocean, an outstanding storyteller, became the story itself when Blonde was released.
The lead-up to Frank's new album
In the years preceding the album's release, Frank was quiet. As a musician, Frank is used to the headlines, and his absence from the limelight prompted his fans to question what was going on with him.
In the midst of the mass hysteria surrounding police brutality in Ferguson, Orlando, and other pockets across the United States, we bearly heard a peep out of Frank. And remember, this was at a time when Kendrick Lamar released To Pimp a Butterfly, which eloquently and sensationally relates some of the horrors of present-day America.
When Frank re-emerged on the music scene in 2016 with Blonde, it was completely different to anything we had seen before. In fact, its contrast with Channel Orange is clear for all to see and is much more insular than many of us thought possible.
Everything about the album has people talking, and the mere naming of the album has sparked much discussion among Frank's fans.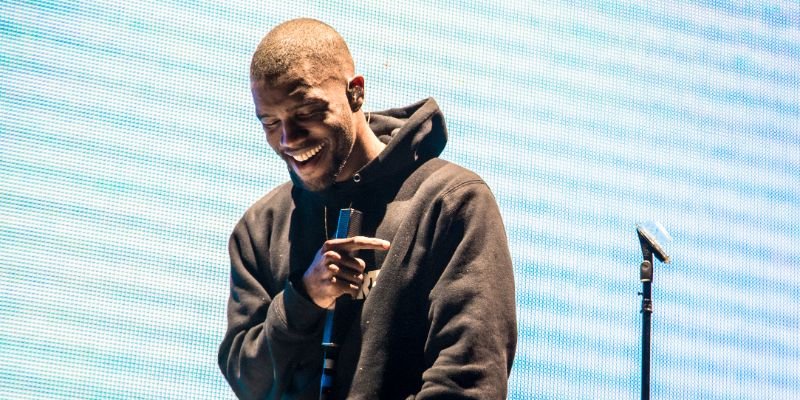 Image credit: Andy Holmes / pembertonmusicfestival.com
Meaning behind 'Blonde'
Although titled Blonde, the title appears on the cover as Blond. This has led fans to speculate whether the different spellings are representative of Frank's sexual experiences with both men and women and the themes of masculinity and femininity in his life. This would certainly account for the different spellings of the same word.
Other fans have drawn parallels between blonde hair and youth, suggesting that the album is Frank's way of looking back on his formative years and sharing lessons. Certain songs, as we explore throughout, relate to specific coming-of-age events that have shaped Frank's life.
Another interpretation of the name of the album is that blondes are typically carefree, and some of the songs on the album speak to Frank's youthful carelessness. On Tumblr, Frank said that he was inspired by a picture of a blonde-haired child when he was composing the album, which again suggests that he was dealing with emotions surrounding youthfulness.
A rollercoaster of emotions
Regardless of why Frank named the album as he did, he takes us through a rollercoaster of emotions. The tracks deal with concepts including falling in and out of love, depression, loneliness, and recovery. In other words, there's a lot to unpack.
After a single, undisturbed listen to Blonde, you will hear songs relating to everyday life. Frank explores love, heady philosophy, and despondent loss, all of which are themes that are currently permeating the collective American consciousness today. The master storyteller takes us on an uncomfortable journey to places many of us don't want to go.
Pink + White
Take the track "Pink + White" as an example. Frank dives into morbidity with the help of Beyonce and Pharrell Williams. He compares the death and destruction that follows the death of a close relation to a hurricane, which we can assume is Hurricane Katrina, which personally affected Frank when he was studying at the University of New Orleans.
Solo
Next up is "Solo," in which Frank empathizes with people struggling through life alone. The depths at which Frank is able to understand and relate to the extremes of human emotions is his purest gift as a storyteller and is evident throughout Blonde. From track to track, he jumps between emotions and showcases his talent for eloquently explaining how things feel.
Self Control
In "Self Control," Frank treats us to a ballad in which he describes the breakdown of a relationship. He suggests that things didn't work out because his partner was immature, and the high-pitched tone of voice he adopts suggests that this was a relationship from his youth. Frank gave an interview to The New York Times, in which he admits to the song being about a real-life relationship, suggesting that he and his former partner weren't on the same wavelength.
White Ferrari
Fast forward to the fourteenth track on the album – "White Ferrari" – and we once again see Frank's penchant for using cars as imagery. The white Ferrari is a symbol of innocence in a relationship and is something that is rare, desirable, and extremely valuable. Like many of the other tracks on the album, things don't end well, beautifully highlighting the rarity of a white Ferrari.
Reflecting on personal experiences with Frank
The truth is that we could break down all of the tracks on Blonde, and we would be presented with myriad contrasting emotions. What's more, there are lessons to be learned from all of Frank's music, and he encourages us to reflect on his personal experiences alongside him. All of this with some mellow background music is a perfect accompaniment to Frank's vivid and reflective storytelling.
In fact, it's almost as if the music that accompanies the lyrics on Blonde is deliberately unobtrusive. You can listen to most of the album without actually noticing the music alongside his lyrics, which is exemplified by the absence of drums on many tracks.
Blonde, a modern classic masterpiece
What we have in Blonde is yet another masterpiece by the enigmatic Frank Ocean. Completely different from Nostalgia, Ultra and Channel Orange, we experience and learn a new side of Frank. It was so well received that it ranked first on Pitchfork's list of the best albums of the 2010s. It was also Frank's first number one on the US Billboard 200 and has subsequently been certified as platinum. If you haven't done so already, slip your earbuds in and click play. Blonde will take you to places that you never thought possible.