And although Donda – Kanye's latest release – has taken the headlines over the past few months, we take a deep dive into Ye's back catalog to bring you his top 20 songs of all time!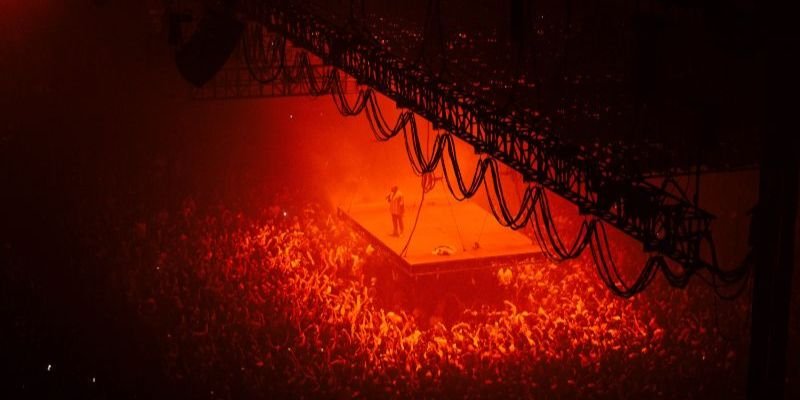 20. Stronger 
Graduation is one of Kanye's most popular albums, and for good reasons. It's upbeat, positive, and filled with great tracks. One of our favorites from Graduation is Stronger, which enjoyed mainstream success when Ye was at the top of his game. 
Although overshadowed by Homecoming on the release, Stronger has cemented its place in the upper echelons of Kanye's all-time greatest hits. 
19. Heartless 
On 808s & Heartbreak, Kanye dropped an instant classic with Heartless. Featuring autotuned melodies and a Roland-808 drum, Ye did away with much of the optimism of his previous releases and delivered something much more sombre. 
With killer lyrics and an exploration of some of the more macabre feelings associated with loneliness and detachment, Heartless connects with fans on so many levels.
17. Hey Mama
Kanye treated us to some incredible tracks from his iconic Late Registration – one of the best rap albums of all time. Hey Mama is a poignant and moving dedication to his mother. Completely relatable and evocative, Ye struck a chord with the masses with this diversion from his typical style. 
After his mother, Donda, passed in 2008, Kanye sang a beautiful rendition at the Grammys, which opened our eyes to a softer side of the superstar. It's impossible to watch it without a tear in the corner of your eye.
16. Love Lockdown 
Another track to make our list from 808s & Heartbreak is Love Lockdown, the beating heart of the entire album. The continual beat throughout the song is accompanied at different stages by hand-claps, drums, and forceful piano to create something unique. 
Credited by many as the track that revolutionized the use of autotune, there's nothing predictable about Love Lockdown. Yet, more than a decade later, it still ranks as one of Ye's most popular releases. 
15. Good Life
Kanye isn't often seen as a guy that is always on top of the world, but Good Life was Ye on cloud nine. Alongside T-Pain, he brought his fans something far removed from the reflective depth that many of his previous tracks were known for. 
Certainly not happy-clappy, Good Life is all about owning your circumstances and making the best of them—a feel-good classic for Kanye fans.
14. Touch the Sky 
Touch the Sky is often overlooked in Yeezy's pantheon of tracks, but there's a lot to unpack. Reworking Curtis Mayfield's Move On Up and incorporating drums, horns, and an upbeat kick throughout, the track is one of Kanye's most light-hearted releases. 
And who can forget that video with Pamela Anderson? If Kanye wasn't the name on everyone's lips before, he was after Touch the Sky dropped with his excellent friend Lupe Fiasco.
13. All of the Lights 

There's no doubt that Kanye loves collaborating, and All of the Lights brought together Rihanna, Fergie, Alicia, Keys, La Roux, and Elton John! The plump comes from the full orchestra, while the ever-changing drum beat throughout creates a crazy sense of the unknown.
Not Kanye's finest in terms of lyricism, All of the Lights is one of those tracks made for blasting from the car stereo while your shades are on and the sun is out. 
12. Gold Digger 

Gold Digger was the fastest-selling digital download of all time on its release, and it's not difficult to see why. Perfectly laid on top of Ray Charles' I Got a Woman, the vocals Ye dropped with Jamie Foxx on this track are nothing short of legendary. 
Undoubtedly one of Kanye's most universally loved songs, Gold Digger, topped charts worldwide. A global hit from an international superstar. 
11. Jesus Walks 

From a guy who calls himself God, it's hard to argue with the appearance of Jesus Walks on his debut album, The College Dropout. With a military-Esque tone throughout, Yeezy made the world sit up and take notice right from the very start. 
Religious or not, it isn't easy to listen to Jesus Walks without appreciating the great man's preaching – Yeezy, we mean. 
10. Runaway 

Considered by some as Kanye's best song, Runaway kicks off our top ten. Released at one of the most challenging points in his career, the whole nine minutes of the track are cathartic, beautiful, and memorable in equal measure. 
Self-reflection and Kanye West aren't often terms we hear used in tandem, but Runaway paints Yeezy in a different light. Its release spawned Kanye's rebirth and brought everything that followed. 
9. Wolves 

Say what you like about Life of Pablo, but Wolves is Ye at his evocative best. Teaming up with Frank Ocean and Sia, Kanye delivered a track as haunting as a head trip – confusing, indistinguishable, and terrifying. 
Highlighting Yeezy's remarkable diversity as a producer, Wolves deserves its place in our top ten for its sheer audacity. Well played, sir. 
8. Through the Wire 

It took a lot of self-restraint not to include Through the Wire at the very top of this list. The track that started everything is dope, influential, and Kanye at his unpolished best. Looking back, there's so much to love about The College Dropout. 
Dropping at the start of the millennium, Nineties kids look back on Through the Wire with nostalgia, unaware of the incredible rise its eccentric lyricist was about to embark on—a classic in every sense of the word. 
7. Monster 

Okay, so it's not attributable to Kanye alone, but Monster is all over the place, and we love it. Nikki Minaj, Rick Ross, and Yeezy's frenemy Jay-Z bring this track to life, and the chant-like chorus has earned legendary status. 
Monster is one of our absolute favorite Yeezy collaborations and invites us all to let loose from an album that didn't do as much as it could have. 
6. Black Skinhead 

Considering Yeezy declares Black Skinhead as his very own theme song, we shouldn't ignore him. We toyed with the idea of shifting this track further up our list, partly thanks to his unprecedented attack on middle America throughout. 
However, Black Skinhead has to settle for number six as we dive into our top five Yeezy tracks of all time. Buckle up! 
5. N****s in Paris 

This song is the bomb. Vibrant, alive, and outrageous, Kanye and Jay-Z went to town to release N****s in Paris. Although famous worldwide, Europeans seem to resonate with the track more than others. 
When Jay-Z and Yeezy played a tour in France's capital, they dropped this track twelve times in a row. Twelve! Indeed, that's justification enough for a place in our top five. 
4. Diamonds from Sierra Leone 

Who would have the audacity to take one of the best-loved songs in cinematic history and run raps over it? That's right, Yeezy. The combination of John Barry's James Bond track and Kanye's lyrics are nothing short of magical. 
It's almost as if they were meant to be. After all, can you sit and watch Goldfinger and not think that Kanye would improve the soundtrack? 
3. Blood on the Leaves 

Now that we're at the business end of our countdown, brace yourself for the stylistic genius of Blood on the Leaves. Full of anguish and raw emotion, this exquisite lamentation will define Yeezy when he's gone. 
While many love Ye for many of his upbeat tunes and witty lyricism, there's a lot to love about the depth of human emotion he achieves in Blood on the Leaves. Bravo, Yeezy. 
2. Can't Tell Me Nothing 

Some might scoff at Can't Tell Me Nothing's inclusion at the pinnacle of our selection, but hear us out. It gave us an insight into Ye's story and was an audacious release at the time. 
It helped to cement Yeezy at the top of the tree in 2007-08 and has become a cult soundtrack of sorts. It motivates people to stand proud and do it anyway. 
Strangely, when Ye doesn't try hard to create a masterpiece, he delivers. "If I had a billion dollars, then you can't tell me nothing, right?" Very faithful, Ye. 
1. All Falls Down 

Allow us to take you back to where it all started for Yeezy for his best track of all time. Delivering lyrics like 'Couldn't afford a car so named her daughter A-Lexus,' it's impossible not to love All Falls Down. 
Complemented perfectly with lyrics by Syleena Johnson, All Falls Down was delivered before Yeezy got lost in self-contemplation. 
Who would have thought the third release of his debut album would be a timeless classic, full of introspection and vulnerability? 
Final thoughts 
You might disagree with the order, but there you have it – our top twenty tracks of Kanye West's musical career. We're big fans of his old tracks, from simpler times, as you can probably see from our selection! 
Still, although he's gone off the rails a little with some of his productions in recent times, Yeezy is undoubtedly one of the greatest rappers of all time – a fact even his army of haters can't deny.