To help you with your purchase journey and ensure you get the best headphones possible, we're here to take you through the pros of wearing studio headphones. Once you've read through this guide, you'll be hitting that "add to cart" button faster than ever before.
What are studio headphones?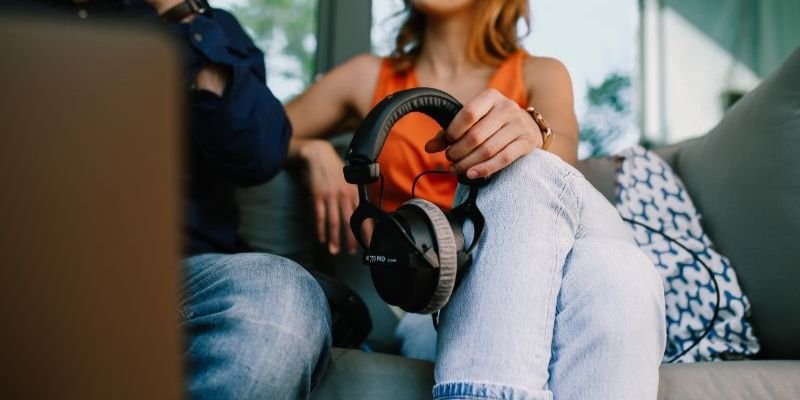 Before we dive into the many advantages of wearing studio headphones, let's briefly touch on what they actually are. This is super important to know as if you don't do your research, you might end up buying DJ headphones instead of studio headphones. Trust us when we say this is a big (but easy) mistake to make!
As the name suggests, studio headphones were originally designed to assist recording engineers and artists in the studio. This is because the headphones deliver the most natural sound possible, making it easy to identify issues with the audio when in production.
Nowadays, however, a lot of brands use the "studio" name for marketing headphones suitable for everyday use. As we talk through the benefits of studio headphones, you'll see why this is the case.
What are the benefits of studio headphones?
It's safe to say that studio headphones must be pretty great if brands choose to market them for everyday use. Whether you're a mixer in the studio or a keen music listener, let's unravel some key features of studio headphones…
1. Noise isolation
For a lot of headphone wearers, noise isolation is a must-have in a pair of headphones. Noise isolation refers to how well the headphones keep the sound "trapped" inside your ears, preventing outside noise from getting in and your music from leaking out.
When in the studio, noise isolation makes it easier to focus on the audio without any other distractions. This increases the sound quality, making it easier to get a more authentic version of the piece you're listening to.
For everyday headphone wearers, noise isolation comes with many benefits. This includes:
Making it easier to focus on a task
Preventing loud commuting noise from ruining your music
Listening to a track of the highest quality possible
2. Sonic neutrality
Speaking of high-quality music, sonic neutrality plays a huge role in the finished product.
What you may not know is that a lot of headphones have a poor frequency response; changes in frequency responses are what causes a distorted and inaccurate sound. This is the worst thing to experience when in the studio, as it makes it impossible to trust what you're working on fully.
Studio headphones, however, keep sonic neutrality in mind. They have a great frequency response, allowing you to hear a completely unfiltered version of your track. While what you hear might not be what you're expecting, it'll show you exactly where improvements need to be made.
3. Durability
Durability is probably one of the most important features to look for when choosing a pair of headphones. Luckily, studio headphones are some of the most durable around.
As studio headphones were originally intended for producers, they were designed with long-wearing periods in mind.
Most high-quality studio headphones keep comfort at the forefront of their design, combining thick earpads with a soft headband. Not only this, but the wiring is often more durable than other types of headphones, once again adding to the longevity of the product.
While it's your job to take care of your headphones, the way in which studio headphones are designed will ensure they survive the occasional bump and scrape!
Other important features to look for in studio headphones
When it comes to buying studio headphones, there's plenty more research worth doing to ensure they're right for you. Let's briefly touch on some other areas that might sway your decision.
Open, closed or semi-back?
The level of noise isolation is determined by whether the studio headphones are open, closed or semi-back.
Open-back headphones are the most ideal for studio use as they prevent sound reflection from occurring. This makes the sound quality all the more reliable.
Closed-back headphones, on the other hand, prevent any sort of outside noise from entering. This is a common choice of headphone for everyday listeners as it allows you to truly enjoy your music in all its glory.
Although not as popularly used, semi-open headphones provide the best of both worlds. They release sound pressure, providing a middle balance between completely open and completely isolated.
Expected use or operation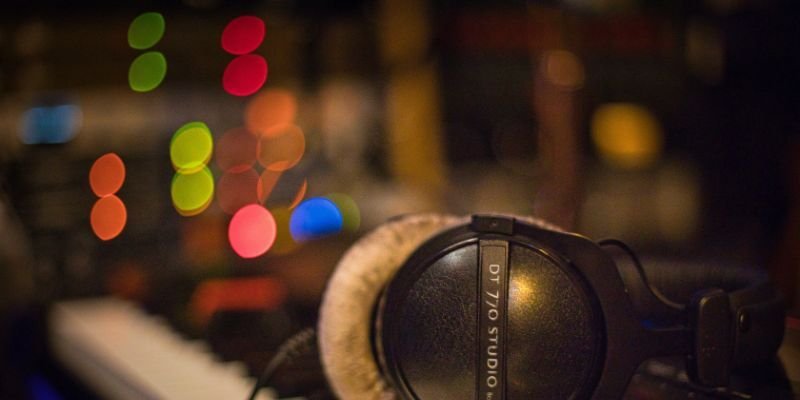 We all have different intentions when it comes to wearing headphones, whether it be for music production or peace. Either way, knowing what you plan to use the headphones for will help to figure out if studio headphones are right for you. This loops back to our previous point, as the operation you use headphones for will assess what type of back they need.
Price
We're going to get honest with you for a second… high-quality studio headphones don't always come cheap. If you stumble across a pair that are stupidly cheap (unless in the sale!), it's safe to say that you'll get what you pay for.
Studio headphones are designed to withstand the test of time while delivering excellent audio quality. The materials used to make this happen reflect in the price. We're not saying that you should break the bank when investing in a pair, but we are saying that they are worth every penny!
Are studio headphones right for me?
Now that you know the many pros of studio headphones, you'll probably have a clear idea as to whether they're right for you. In our personal opinion, we know that you'll benefit from them, no matter what! Studio headphones are made for everyone, no matter what you do.