But what are vertical record players like? How do they work? And do they produce a decent quality of sound? 
Let's take a look now.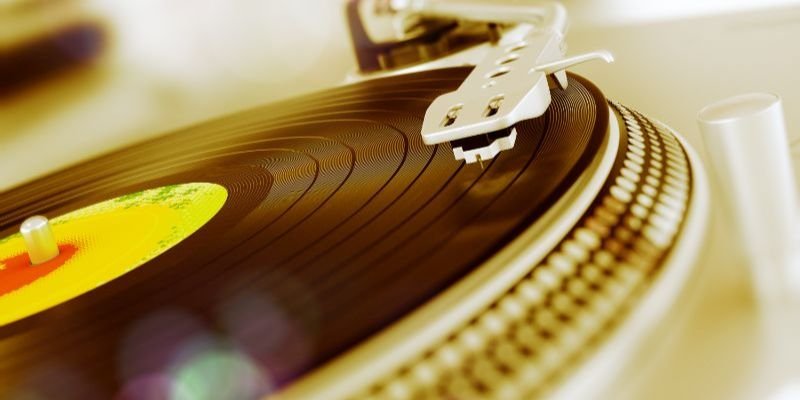 What is a vertical record player?
A vertical record player is a device upon which you can play vinyl records. However, while standard record players sit horizontally, vertical record players sit, you guessed it, vertically! In principle, vertical record players function like any other record player; read more about how record players work here.
You've probably seen a vertical record player on social media as the focal point of a sound technician's musical library. You may even have been inspired to set up a standing record player to emulate some of these fantastic home music setups, as a vertical system will undoubtedly turn heads and make your buddies jealous! 
There's no doubt that they are a remarkable feat of sound engineering, but are vertical record players any good? 
Do vertical record players produce good music?
The jury's still out on the sound quality of vertical record players. Some critics think they produce inconsistent sound quality, while others condemn them for scratching vinyl. In the interests of fairness, we've put together a pros and cons list of vertical record players. This way you can make your mind up on whether to invest in one of these futuristic gadgets:
Pros of vertical record players
They look fantastic and provide your home music set-up with a futuristic element.

Vertical record players can be wall-mounted, which means you don't have to find a flat table-top to sit them on.

Lots of vertical record players come with a built-in Bluetooth speaker. Easily enabling you to connect your vinyl to your home speaker system.

You can find upright record players in a range of colors, designs, and materials.
Cons of vertical record players
Vertical record players tend to be more prone to disturbances than horizontal systems, which can cause the records to skip.

Wall-mounted record players often encounter issues with the tonearm, which regularly slides off the vinyl, particularly towards the end of the record.

People regularly complain that the sound quality of vertical record players is substandard compared to traditional horizontal systems.

Lightweight vertical record players will regularly jump and may cause surface scratches to your vinyl.
If you like the idea of adding a vertical record player to your home, we introduce some of the best systems below and provide details of where you can buy them from.
Five of the best vertical record players
Floating record vertical turntable by Gramovox
With a body of walnut or maple, this classy-looking vertical turntable by Gramovox is a beautiful-looking system that features vibration-dampening feet and in-built stereo speakers.
The sound quality of the Gramovox system is exceptional, and it captures highs and lows with ease. The main drawback is that it's fragile, and despite the vibration-dampening feet, it is still prone to skipping if you're not careful with where you position it. 
Pro-Ject VT-E BT wireless turntable
Widely regarded as one of the best vertical turntables on the market, Pro-Ject Audio's wall-mountable player is replete with a built-in pre-amp for top-quality sound output and utilizes an impressive treaded clamp that secures the record to the turntable. 
However, an obvious drawback is a lightweight tonearm that has trouble staying on the vinyl for the track's duration. But this is still one of the best vertical record players out there and is more than capable of producing beautiful sounds.
Sony PS-F5 vertical record player
There's a lot to like about the sleek design of Sony's PS-F5 vertical record player, which can be played either standing up or lying down, depending on how you position your feet. While it doesn't come with in-built speakers, the sound quality is good and relatively consistent.
The main thing that lets this Sony record player down is that it's particularly susceptible to movement, and the system is prone to skipping when placed on a surface that experiences a high level of vibrations.
Fuse Vert vertical turntable
This retro-inspired vertical turntable by Fuse Vert has a counter-weighted tonearm that attempts to combat the skipping issue that plagues other upright record players.
It even features USB sockets, Bluetooth connectivity, and an alarm clock, should you be looking for multiple features from your turntable. It has lots of decent reviews on Amazon, so it's certainly worth looking at if you're in the market for a vertical turntable. 
Roy Harpaz TOC vertical record player 
You may be skeptical about the inclusion of a yet-to-be-released system in this list, but this exciting design by Roy Harpaz justifies its inclusion. Utilizing a linear tracking system, it comprises a built-in carbon fiber brush that keeps records clean. 
But what we love most about this system is the minimalist design. The outer walnut wood shell features two USB ports that can easily connect external sources to the device. If the sound quality is as good as its appearance, this could be one of the best vertical record players out there.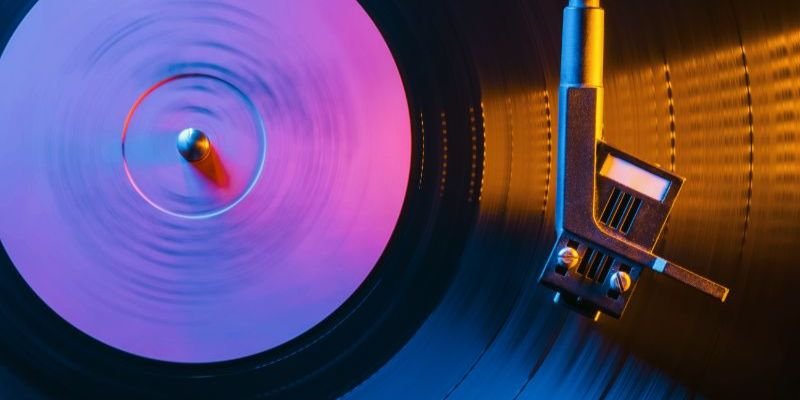 Should I buy a vertical record player?
The decision about whether to buy a vertical record player is entirely down to you. They undoubtedly look great and come in various designs and styles, from bulky retro players to sleek modern appliances. You can read more about automatic vs manual record players here to help. But from a sound quality perspective, it might better serve you to invest in a traditional, horizontal record player, as they tend not to skip as much and produce a consistently high sound quality.